The Beach Towns of Scenic Highway 30A in Northwest Florida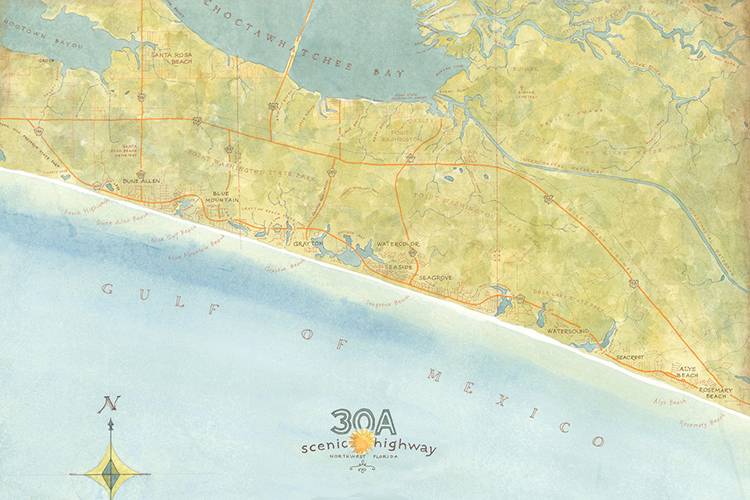 From Inlet Beach to the far east all the way to Dune Allen on the far west, Scenic Highway 30A encompasses an eclectic and vibrant beach scene, each small community with its own look and special vibe that makes it unique.
The 19 mile scenic road hugs the Gulf of Mexico and as you travel down it, you will definitely sense the different towns as you pass through them. Rosemary Beach has a distinct European vibe with green space framing its retail and residential spaces. Alys Beach with its stark white architecture denotes the Greek isles and lush landscapes. Seacrest is a patchwork of classic beach cottages and new refined spaces like The Hub, a retail and entertainment complex. If you want old school beach town, Seagrove Beach is the place. Almost in the center of 30A is Seaside, Florida, the original New Urbanist town with a pronounced town center and gorgeous beach pavilions at the end of each street. Seaside's beach pavilions were all designed by noted architects who also designed most of the homes in the tiny town. 
Grayton Beach has an unofficial motto of "Nice dogs, strange people," and makes the list of Best Beaches in America year after year. The famous Red Bar keeps Grayton nightlife the place to be all year.  Watersound and Watercolor are two planned communities from the St. Joe Company. Watersound with its New England architecture, boardwalks and untouched dunes and Watercolor with its modern community look and feel both offer extensive amenities with beach clubs, multiple pools and much more.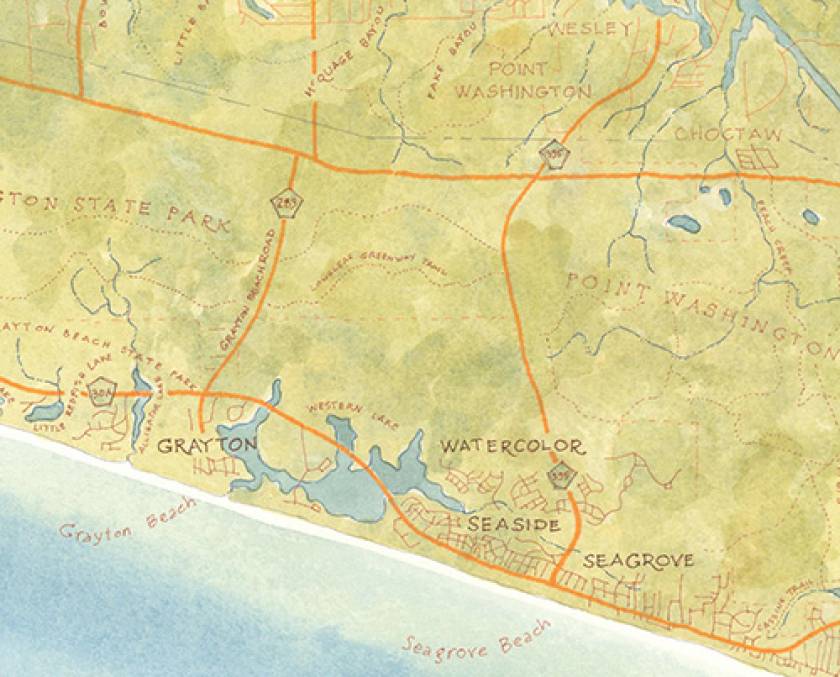 From east to west, the towns along State Highway 30A are Inlet Beach, Rosemary Beach, Seacrest Beach, Alys Beach, Watersound, Seagrove Beach, Seaside, Watercolor, Grayton Beach, Blue Mountain Beach, Dune Allen Beach.
As seen in the imagse above, local architect and artist Julie Smith creates stunning hand-drawn maps in watercolor, a perfect way to capture the 30A style. She's even done several commissions for homeowners in Seaside, Alys Beach and more. You can find the 30A map and more of her work at watercolormapco.com.
If you're ready to book a personalized vacation to the area, contact us at Posh Beach Rentals.